Device security is critical in this day and age, especially if you value your privacy. Your text messages are a window into what's going on in your life and contain personal information that could be used against you if it fell into the wrong hands. To make sure this doesn't happen, you need to take precautions.
Do you have someone in your life who always seems to be reading your text messages? Maybe it's a nosy roommate, parent, or partner. Or maybe you just want to keep your messages private from prying eyes. Whatever the reason, there are ways to stop others from reading your text messages on Android. Here are a few tips.
Set a Password on Your Device
Setting a reliable password to access your device is essential. This will ensure that no one can access your messages without your knowledge, keeping them safe from unwanted readers.
Furthermore, if ever you think someone has gotten into your device, changing the password immediately can-do wonders to prevent further intrusions. A secure password provides an invaluable layer of protection for all of the data stored on your device and you should never underestimate its importance. This will help you prevent anyone from snooping on your device, especially when you leave your device unattended.
Setting a password on your Android device is very easy. In fact, all Android phones come with the option of setting a password on your device. While the look of the screens and positions of the menus may vary, depending on your device, you can follow the steps given below and set a password for your phone.
1. Open your settings and find the Security Option. Depending on your device, the location and the name may vary a little.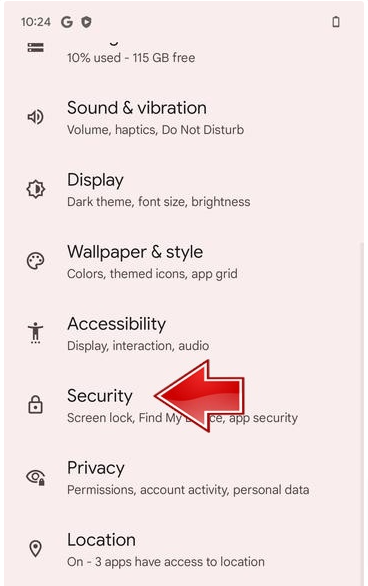 2. Access the Lock Settings on your device.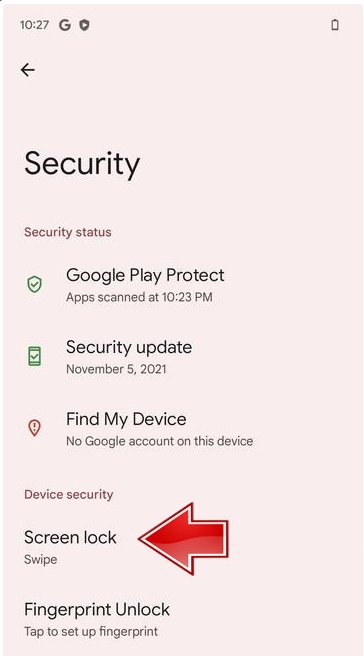 3) You can choose from multiple types of passwords and locks for your device. We highly recommend enabling fingerprint lock along with an alphanumeric password for the highest level of security.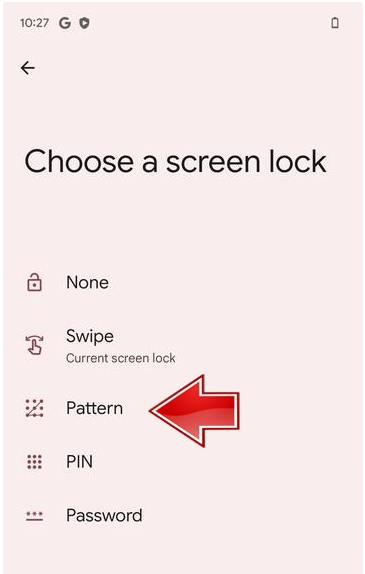 Control Your Lock Screen Preview
Your lock screen shows you everything that you need to know about at a glance. However, they can also end up letting others read your private texts if they happen to glance upon your phone. Most phones light up the moment you get a text from someone.
This is a great way to see important information instantly, but if someone is around you at that time, they may be able to glance at the information as well. Apart from that, they may be able to see the text message from your lock screen if you leave your device unattended. This may end up compromising your privacy and giving away sensitive information to strangers. To avoid this, you can set your lock screen notifications to private. This way, you will know that you have gotten a text message but will be able to read it once you have unlocked your phone with the password that you have set. To do so, simply follow these steps Enter the settings area of your device and select the Notifications section.
1. Enter the settings area of your device and select the Notifications section.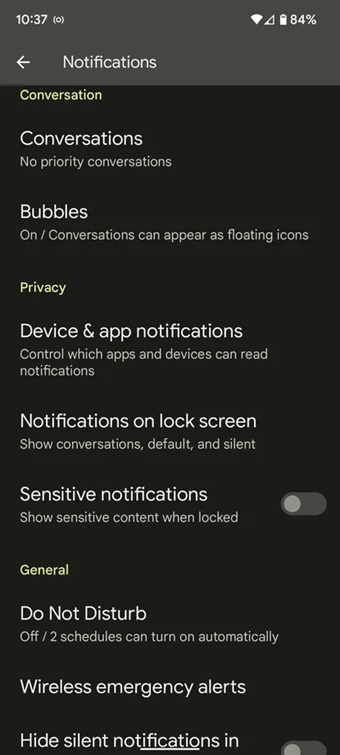 2. Tap on the Notifications on lock screen menu item. From there, you can choose the amount of privacy you wish to have from the multiple settings you will be shown.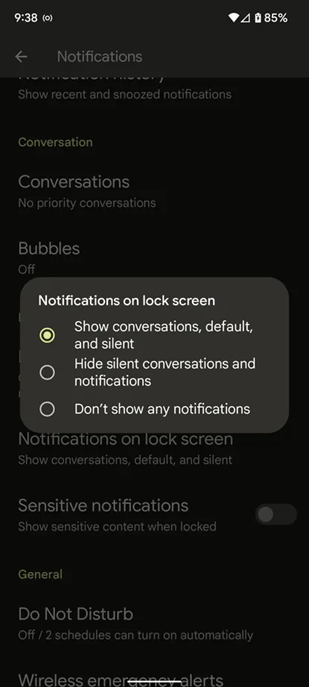 You can also choose which apps you see on the lock screen. This will make sure that notifications from apps that are more sensitive in nature do not appear on the lock screen at all.
You can do this by going to the same Notifications section in the setting, then App settings. You will be able to see a list of applications that are installed on your phone. From here, you can toggle notifications for the apps that you do not want showing up.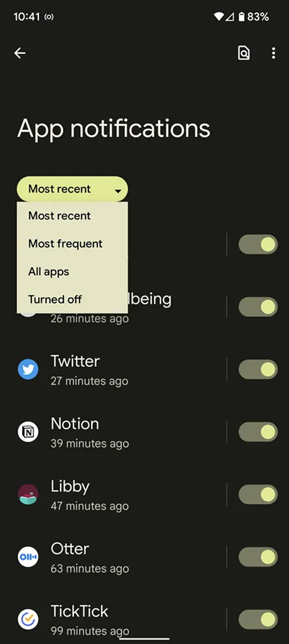 Lock Your Apps Using a Password
Most Android phones today come with an in-built option to use a password to protect your apps. These passwords need to be entered in order to access an app every time you open it. This can make sure that even if you leave your phone unlocked by mistake, no one will be able to open the app since it will require a password to be entered again.
You will be able to do so by following the instructions we have provided.
Open the Settings on your Phone.
Open the Security and Fingerprint section and navigate to the App Locker section.
From here, you can toggle the apps you want to protect with a password.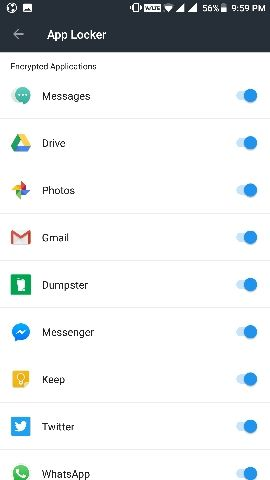 If you are doing this for the first time, you may be prompted to enter the type of password you want to use to lock the apps. We recommend using the Fingerprint password option, as it is the most secure as well as the most convenient way to access your applications.
Hide Your Messages
Many text message apps have an option to hide sensitive conversations and messages. This will ensure that if you have any conversations you want to protect, you can do so by using these options. You will need to search this method for applications, but if any application does support such a feature, you will be able to protect specific conversations with passwords or fingerprint locks.
Whenever you have the option, we recommend going with a fingerprint lock instead of other methods of password protections.
Be Wary of Who You Hand Your Phone To
With the ever-growing popularity of text messaging, it is becoming increasingly important to protect your messages from prying eyes. Even seemingly innocent situations involving handing your phone over to someone else can lead to disaster if you don't take the necessary steps to protect yourself.
Here are a few reasons why you should be wary of who you hand your phone to and the best ways to secure your texts:
It is important to remember that anyone with access to your phone can potentially read your messages. It doesn't matter if they mean no harm; all it takes is a single look and suddenly they have gained insight into information that was only meant for you and/or a certain group of people.

This could include anything from sensitive business information, private conversations between friends or family members, or even embarrassing photos or videos that you may have sent to someone else.

Even if you trust the individual you are handing your phone off to, there's still the risk of them accidentally breaking something on the device or inadvertently deleting something important. If this happens while they have access to your text messages then all bets may be off as far as protecting those conversations.

So whether it be a young child playing around with mommy's iPhone or an older relative trying out a new smartphone for the first time – make sure that whatever happens in these scenarios does not involve accessing your text messages.

They may do it by accident. You may have given your phone to someone to show them something in your gallery, and suddenly they see a notification from a text message that was just sent to you. Even if they did not intend for it to happen, they now have knowledge of information that may have been sensitive.
In general, it pays off to be careful with whom you choose to share your device. By taking extra precautions like logging out of chat applications, erasing old conversations regularly and turning the silent mode, which disables notifications, when giving your phone to someone else– users can minimize their risk even further and ensure their privacy remains intact despite lending their phones out for short periods of time.
Using Secure Wi-Fi Networks
While it is easy to send a text to someone using a text messaging app, there is always a possibility that the message can be intercepted and read by someone in the middle. This usually happens when a WiFi network is compromised or owned by someone with malicious intent.
Make sure that any private and sensitive communications happen either on cellular data or on a WiFi network that you know for sure is secure. Avoid public WiFis, as they have a larger chance of being compromised.
If you have to use a public WiFi network and do not have a choice, consider using a VPN in order to safely send the messages that you need to send. A VPN establishes a secure connection from your device to their servers, which cannot be intercepted by anyone.
Install Applications From Trusted Sources Only
While there are many ways to download applications, not all of them are secure. You may download apps from anywhere, but how do you know which sources are secure?
Applications can be modified to have malicious code in it. This can range from stealing your sensitive data like passwords, capturing screenshots of your activity to send it to a malicious third party to stealing your files.
For these reasons, you should be careful where you are downloading your applications from. A lot of websites host downloads of applications. These might be paid applications that the website is letting you download for free. However, downloading them may prove to be a risk to your device, as there is a high probability for the apps to be infected with malicious code.
Always download applications from trusted sources only. The best source for application downloads is Google Play Store. Other sources may be secure or they may not be, the best thing to do is to not risk it in the first place.
Manage Access Permissions for Your Applications
While protecting yourself from malicious applications can be done by not downloading applications from tainted sources, it is difficult to protect yourself from legitimate apps that collect your data and send it to their servers. However, it is not impossible.
You can protect yourself from such applications by managing the application's access permissions. You can do this by individually accessing the permissions of each application and setting the permissions of each application.
Turn off the permissions for the things that you do not want the app to have. This will help you protect your sensitive data from being uploaded to any company's servers and being sold off to advertisers.
FAQs
How to block unauthorized access to text messages on android?
You can use the tips mentioned above to block someone from seeing your text messages.
How to tell if someone has read my text messages on Android?
Depending on the application being used, there may be an option to turn on Read Receipts.
How can I secure my text messages?
You can secure your text messages by following the tips we have mentioned in the article above.
Conclusion
In conclusion, there are many ways that you can stop someone from reading your text messages on Android. By taking the proper precautions and being aware of the potential threats, you can keep your information safe and secure. We hope that this article was helpful to you and will help you in keeping your text messages and private information safe from any spying eyes.